Contoh Cv bahasa inggris berikut kumpulan CV yang dapat kamu gunakan untuk keperluan melamar kerja atau yang lain disertai berbagai pilihan keahlian.
Perlu diperhatikan CV Bahasa Inggris harus mencantumkan poin penting seperti personalities, education, work experience, dan lengkapnya di artikel ini.
---
CV atau yang disebut juga Curiculum Vitae dalam bahasa Inggris kadang sangat dibutuhkan walaupun bekerja di perusahaan instansi dalam negeri. Para pelamar pekerjaan biasanya diminta untuk membuat CV atau daftar riwayat hidup dalam bahasa Inggris agar lebih baik hasilnya.
Hal ini dimaksudkan untuk mengukur sejauh mana tingkat keahlian calon pelamar kerja dalam berbahasa inggris di era globalisasi ini.
Kemungkinan diterima dalam suatu lamaran pekerjaan akan semakin meningkat jika CV yang dikirmkan menggunakan bahasa inggris.
Berikut ini adalah Panduan dan Contoh CV Bahasa Inggris yang bisa kamu gunakan.
Poin Penting dalam CV Bahasa Inggris
Berikut ini adalah poin-poin penting yang harus kamu tuliskan dalam suatu contoh CV Bahasa Inggris.
Personal Details : Berisi tentang informasi pribadi (identitas diri) seperti nama lengkap, alamat, tanggal lahir, nomor telepon, sampai email yang dapat dihubungi.
Education Details : Berisi tentang riwayat pendidikan kalian. Mulai dari awal pendidikan sampai pendidikan terakhir yang sudah ditempuh.
Certificates : Berisi tentang keahlian yang kalian miliki juga sangat penting untuk dicantumkan sebagai pendukung cv kalian. Semakin banyak skill dan kemampuan yang dimiliki, semakin tinggi juga kemungkinan perusahaan akan mempertimbangkan lamaran kalian. Diharapkan kemampuan harus sesuai pada posisi pekerjaan yang kalian lamar.
Job Experiences : Berisi tentang pengalaman kerja yang pernah kalian jalani. Sama seperti skill, pengalaman kerja merupakan poin penting yang akan menjadi pertimbangan perusahaan juga. Logikanya, semakin banyak pengalaman kerja, maka semakin banyak keahlian yang dimiliki.
Personality : Poin yang berisikan karakter pribadi kalian seperti hobi yang disukai.
Contoh CV Bahasa Inggris Dan Artinya (LENGKAP)
Bahasa Inggris
CURRICULUM VITAE
PERSONAL DETAILS
Name : Syaifullah
Date of birth : June 20th, 1997
Gender : Male
Address : Agrowisata 1 Street, Kemiling, Bandar Lampung(35158)
Marital status : Single
Religion : Islam
Nationality : Indonesian
Phone : (0852) 11335522
Cellphone : 082191910022
E-mail : [email protected]
EDUCATION DETAILS
2000 – 2006 State Elementary School 2 Bandar Lampung
2006 – 2009 State Junior High School 7 Bandar Lampung
2009 – 2012 State Senior High School 1 Bandar Lampung
2013 – 2017 Computer Engineering Department, Universitas Lampung
GPA = 3.50 (scale 4)
PREDICATE = Cumlaude
JOB EXPERIENCES
May 2014 – May 2016 Software Engineering at PT. Sejahtera
SKILLS
Internet marketing
Programming (Java, C++, Android, PHP, HTML)
Database (SQL)
Microsoft Office
English (Active)
PERSONALITY
Honest, kind, hardworking, diligent, tolerant, ready to work with a team, disciplined, and responsible.
This I declare that the information above is actually made and provided here by me, all in good faith.
Sincerely,
(Syaifullah)
Terjemahan
DAFTAR RIWAYAT HIDUP
KETERANGAN PRIBADI
Nama : Syaifullah
Tanggal Lahir : 20 Juni 1997
Jenis Kelamin : Laki-laki
Alamat : Jalan Agrowisata 1, Kemiling, Bandar Lampung(35158)
Status : Lajang
Agama : Islam
Kewarganegaraan : Indonesia
No.Telepon : (0852) 11335522
No.Handphone : 0821191910022
E-mail : [email protected]
KETERANGAN PENDIDIKAN
2000 – 2006 SD Negeri 2 Bandar Lampung
2006 – 2009 SMP Negeri 7 Bandar Lampung
2009 – 2012 SMA Negeri 1 Bandar Lampung
2013 – 2017 Jurusan Teknik Komputer, Universitas Lampung
IPK = 3.50 (skala 4)
PREDIKAT = Cumlaude
PENGALAMAN KERJA
Mei 2014 – Mei 2016 Rekayasa Perangkat Lunak di PT. Sejahtera
KEAHLIAN
Internet marketing
Pemrograman (Java, C++, Android, PHP, HTML)
Basis Data (SQL)
Microsoft Office
Bahasa Inggris (Aktif)
KEPRIBADIAN
Jujur, baik hati, pekerja keras, rajin, toleran, siap bekerja dengan tim, disiplin, dan bertanggung jawab.
Dengan ini saya menyatakan bahwa informasi di atas sebenarnya dibuat dan diberikan di sini oleh saya, semua dengan itikad baik.
Hormat saya,
(Syaifullah)
Contoh Format CV Bahasa Inggris
Berikut ini adalah contoh format tampilan untuk CV Bahasa Inggris. Semakin bagus tampilan dari CV mu, maka peluang diterima mu akan semakin besar juga.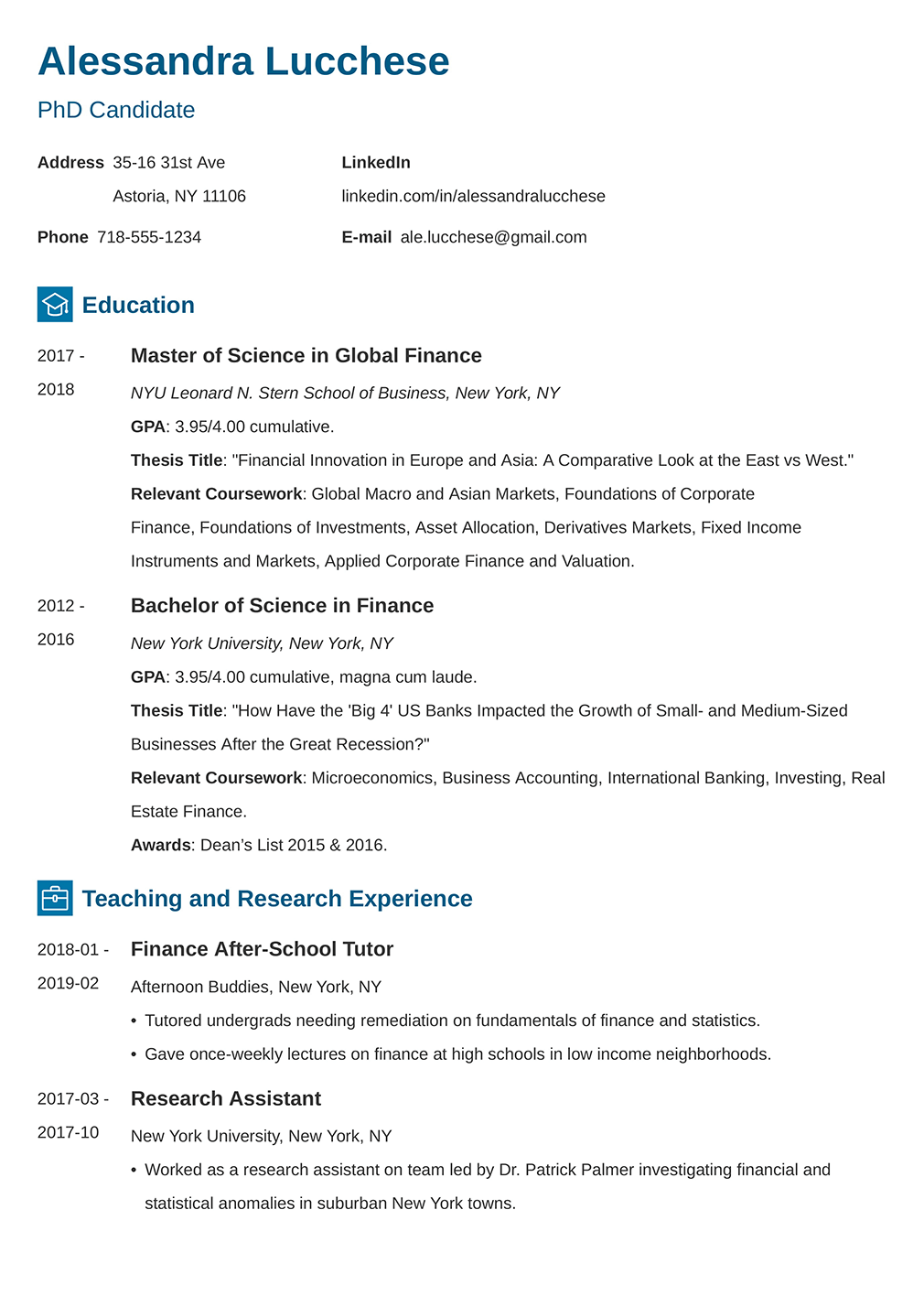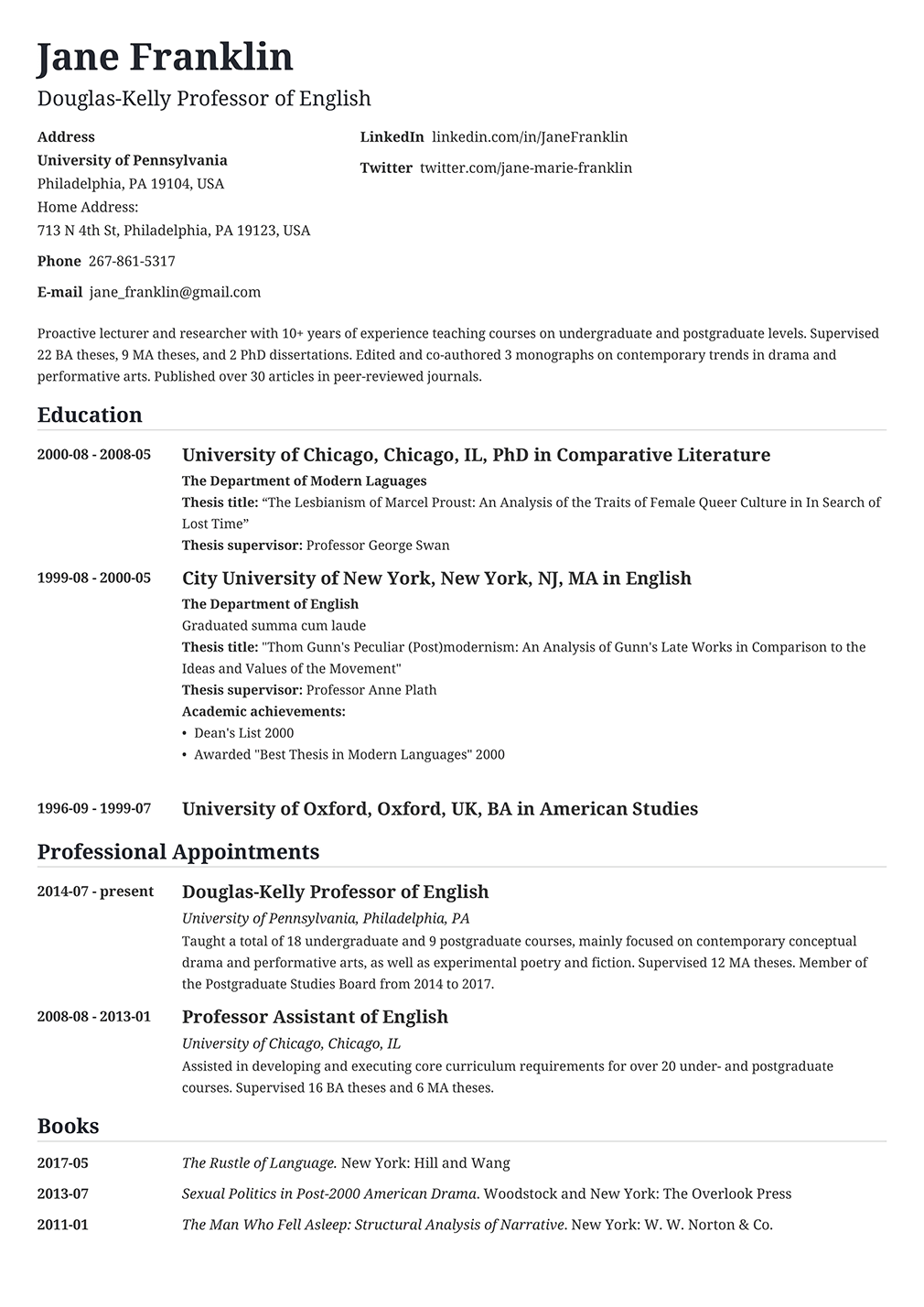 Demikian penjelasan mengenai Contoh CV Bahasa Inggris (Curriculum Vitae) Yang Lengkap dan Paling Menarik.
Semoga bisa bermanfaat untuk kalian semua.
Sumber: Best CV Example – Zety.com | CVMaker.UK | Rumus.co.id